The first day of this project runs through a few techniques. I particularly liked the .confirmationDialog() example. This seems to work well on the watch, and the Cancel button is moved out of the list of buttons and shown in the title bar, making it easier to access.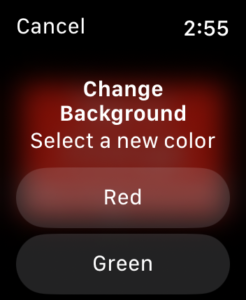 However, things do not go well when Paul asks us to import CoreImage. Xcode very quickly gives us the error 'CoreImage is not available when building for watchOS
Then things continue to be a problem as the UIViewControllerRepresentable() is also not available in watchOS.
Gave up on this App, as it is not a good candidate for a watch App at present.